Welcome to All Saints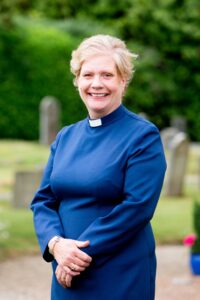 Everyone is welcome at All Saints' Church whatever their tradition or background.
You'll find us in the centre of Grayswood, a pretty Surrey village. Not just geographically in the centre but the social heart of this small community, part of the lives of the people of Grayswood since 1902.
Whether you want to pray, give thanks or find hope in times of despair, our beautiful Grade II listed church is open every day between 9.30 and 4.
Harvest Festival 3rd October at 10 am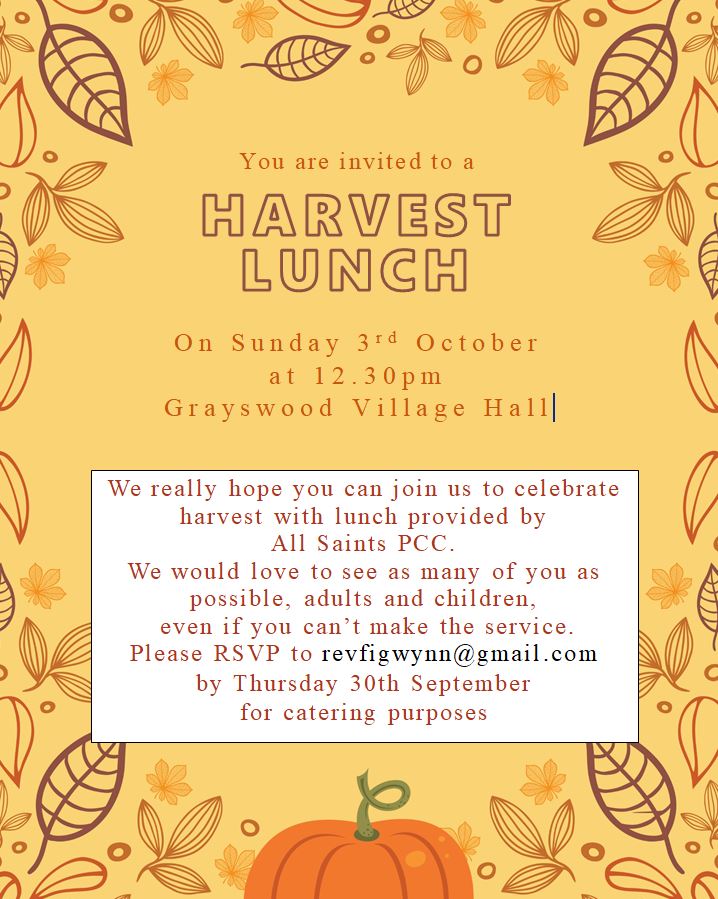 All Saints is fully open for worship

Letter from Revd Fi Gwynn
Dear All
From 19th July, the UK government has lifted national restrictions, including social distancing and the use of facemasks. In churches this allows the return of worship in a similar pattern to that which we knew before the pandemic.
Whilst this will be a welcome to some, it may be a concern to others because of the removal of masks and singing. These changes are laid out below, and the whole concept of how we worship together from now is to emphasis a care and respect for each other, and how we conduct ourselves in worship with consideration for others.
As with the broad national approach, individual responsibility is now the central theme. The church leadership with the PCC have considered how best to proceed, with a balance of care and the need to try to return to normal.
Our regular service pattern will continue both in church and via zoom.
Proposed changes are:
The service layout for the 10:00am service will now return to four sung hymns, and a said or sung Gloria.
As you arrive, please continue to use the sanitiser hand gel, which will be available. The wearing of a face mask is a personal choice. No booking online is necessary, you may come unannounced to any service.
The right side of the church (facing the altar) will be seated as socially distanced, for those who wish to sit that way. The left side of the church will be fully flexible without seating restriction.
The collections of envelopes or cash and use of the contactless readers will continue as before and be available as you enter or leave the church. The passing around of the collection during the service will not resume. This is a permanent change.
For the present, the peace will remain as now with a friendly wave and a nod.
To receive Holy Communion, please come forward as directed by the sidesperson to stand at the altar rail to receive the wafer. We will not offer the wine of holy communion at present.
Refreshments will be provided after the 10:00am service, at the village hall, with tables for seating, but also allowing open space for standing and circulating.
It will take time for these changes to settle down and will be reviewed week by week. Since March 2020 we have had considerable variation in the pattern and content of worship, which we now hope to settle into a permanent state. As always, your goodwill and cooperation are much appreciated.
with much love
Fi
x
Private prayer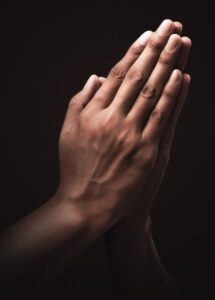 All Saints is open every day for Private Prayer
Would you like us to pray for you? God hears you, but it is good to know you have other people who care, joining with you!
Phone us, email us, pop a note into the box in the church porch, or ask someone to pass a message on. A first name is all we need and confidences are ALWAYS respected.
07769 856343 or revfigwynn@gmail.com
01428 714385 or revelainecollins@icloud.com
Thought for the Day
As a father has compassion on his children, so the LORD has compassion on those who fear him.
Start ....
...asking questions about life and the Christian faith
Wednesdays in church  9.00 -10.15
(Tea/Coffee from 8.45)
6th, 13th and 20th October
Come along and join us,
even if you can't make all the sessions.
For more information please contact Rev Fi Gwynn – revfigwynn@gmail.com or call 07769 856343

Time to Be ... in the presence of God
A quiet hour where we can pray with scripture
and pray for others
3rd Wednesday of the month @7pm
20 October, 17th November and 15 December.
Zoom code: 844 4083 8929
Passcode: TimetoBe
Please do email Revd Elaine Collins for more information and/or to go on the mailing list for this ongoing event  -  revelainecollins@icloud.com
Everyone welcome
The Cake Sale returns!
When? Sat 6th November
Where? The Village Club
What? Cakes and produce and baby plants
Please come and support us!  Contactless payment preferable
For more information, contact Di 654303/07769 871720 or drdcook01@gmail.com

Ways of giving ...

We really appreciate your donation.  We are very reliant on the generosity of people like you to keep All Saints as a beautiful and well maintained place of worship.
You can make a one-off online donation to All Saints using the secure link below
We really appreciate your donation.  We are very reliant on the generosity of people like you to keep All Saints as a beautiful and well maintained place of worship.
If you would like to donate by cheque, cash, BACS or discover more about Gift Aid please visit:
Are you struggling with finances? In these difficult times you may find yourself struggling with finances. If this is the case then please do get in touch as we may be able to help you. Please send an email to revfigwynn@gmail.com or call 07769 856343 which will be treated in strictest confidence. We are here to help so please don't suffer in silence.
Friends of All Saints Grayswood
The Friends of All Saints Grayswood is a registered charity that exists to raise funds for the repair, maintenance and improvement of the structure and fabric of the church so that it can be preserved for the future and continue to play a vital part in the life of the village. Looking after a Grade II listed building is costly and in addition to on-going repairs, other improvements are required to maintain the church for worship and for the community.
Many people in the area are not regular churchgoers, but want the church to be there for weddings, baptisms and funerals, and also because it is a beautiful building, which forms a central point in the village. There are also those from other parts of the world with past or present links who wish to be involved.
 We urge all who care about All Saints Church to ensure that it continues to thrive. Our aim, therefore, is to involve the residents of Grayswood and the wider community in the care of this building and its surrounding churchyard.  For more information please visit their website