Grayswood Community Volunteers
We are a committed band of volunteers who offer their services if someone in the Grayswood Community needs help.
You will receive a request by email if your services can be matched to a current need. You do not have to say 'yes' every time you are asked!
Complete the form here: Join Grayswood Community Volunteers
If you need practical help or support please do email Rev Fi Gwynn:  revfigywnn@gmail.com
Shopping | Baking | Meal Preparation | Light gardening duties |
Occasional transport on a Sunday | Occasional transport during the week |
Dog walking | Light housework | Ironing | Reading to someone | Cuppa and a chat | Basic IT help and tuition | Collecting prescriptions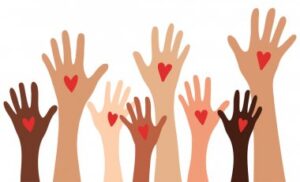 Our Local Food Bank
Haslemere Food Bank was set up in 2013 to give those in need in Haslemere and surrounding districts an extra helping hand with their weekly food shop.  If you are able, please donate goods via the box at the back of All Saints Church or make a monetary donation via: haslemerefoodbank.com/make-a-donation/
The Food Bank always need these items but check their Facebook page for the latest requests and seasonal appeals.
Tins and Jars: meat, fruits, vegetables, potatoes, pasta sauce, baked beans, spaghetti hoops, ravioli, soup, rice pudding, custard, marmalade, jams
Dried foods: oats, rice, pasta, couscous, noodles
Drinks: coffee, tea, UHT milk
Other: biscuits, sweet snacks, savoury snacks, packet puddings
Non-food items: toothpaste, shampoo, shower gel, bar soap sanitary products, cleaning products, toilet roll, pet food
Please remember that all of us can need support at some time or another.
If you, or anyone you know is in need please obtain a voucher for the Food Bank in complete confidence from Rev Fi Gwynn on 07769 856343.

Struggling with Finances
In these difficult times you may find yourself struggling with finances. If this is the case then please do get in touch as we may be able to help you with practical support and vouchers for the local FoodBank.
Please send an email to revfigwynn@gmail.com or call 07769 856343 which will be treated in strictest confidence. We are here to help so please don't suffer in silence.
Around the Green
Grayswood offers not only a church, but a local school, village green and cricket pitch, village hall and a club...
The Village Hall on Grayswood Green
The Village Hall plays a central role in the life of the thriving village of Grayswood. The hall is a bright, airy and modern venue with great flexibility, and is available for hire all year round. There are two function rooms available: the main hall for larger groups, events and activities and a smaller function room for business meetings, smaller groups and events. The hall can be booked for wedding receptions. Visit the website to find out more: Grayswood Village Hall
Grayswood Club
The Village Club is situated at the centre of the village and is the hub of many village activities. It is a Members' Club, though visitors are always welcome. Membership costs £10/annum (£5 for concessions). A cosy seating area greets you on entry, with a hall alongside which has pool, darts and a removable skittle alley. Social and charity events are held throughout the year, mainly on Saturdays, and have included barbecues, coffee mornings, visiting bands and themed music nights. The Club can be booked for parties and family celebrations and by local clubs/individuals for regular use. For up-to-date information on opening times, clubs and events please refer to the website: Grayswood Club. Queries or bookings: awheeler100@gmail.com or call 07808 474147
Grayswood CE Primary School - Inspire, Discover, Learn
"At Grayswood Primary, we greatly value our Christian distinctiveness. We are in the very special position of having All Saints Church, Grayswood as an integral part of our school community. The Rev. Fi Gwynn visits us regularly to lead assemblies and our pupils and staff visit the church through out the year to attend services and celebrate key festivals in the Christian Calendar. All Saints Church is only a brief walk across the village green and is visible from the school. Our pupils support their learning by visiting the church as part of the school's RE and Art curriculum." To learn more about the school please visit the website:  Grayswood CE Primary School
Grayswood Nursery
Children from Grayswood Nursery and Forest School can be found in the Village Hall or in the woods around Grayswood! At Christmas time the children are welcomed into the Church to host their Nativity. All Saints makes a donation each term to help support the nursery. To learn more about the nursery please visit their website at Grayswood Nursery