The following names are recorded on the war memorials in All Saints Church, Grayswood
The Great War 1914 -1918
George L Booker
Frederick W Buss
Alexander Court
William G Creasey
William G Fritter
R Owen Hawkins
John Ibbettson
Thomas Moorey
John Mudge
John W V Palmer
W John Penycate
Walter Smithers
William Snelling
Walter Steer
Alfred Swansborough
Archibald A Talman
Ottley Tuke
William G Turner
Stafford C White
Second World War 1939 -1945
Robert Charles Blockey
Hugh Walter Hayward
Peter William Lowe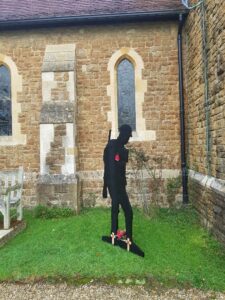 George L Booker
George Lewis Booker was born in 1877 in Haslemere and lived on Shepherds Hill.  In 1906 he married Agnes Swains and they had two children, Agnes and George and they lived at at 5 Klondyke Villas.
George joined the navy as a young man and rose to the rank of Chief Stoker (295851). He was serving on HMS K5 submarine when he died aged just 45 on 31st July 1918. He was swept overboard has no known grave but is remembered on the Plymouth Naval memorial, the Haslemere War memorial and in All Saints Church Grayswood
His daughter, 'little Agnes' went on to marry Norman Pennycate here at All Saints, Grayswood on 28th September 1931. Norman is the nephew of John Pennycate who is also mentioned on the church memorial.
Frederick W Buss
Frederick Buss was born in Grayswood and both he and his older brother George were gardeners, living in Grayswood Lane with their parents Peter and Catherine.
Frederick married Harriett Edwards on 5th February 1916 here at All Saints Church, Grayswood.
When war was declared, both brothers enlisted and Frederick served with 8th Battalion, The Queen's Royal West Surrey Regt (G/37042) in the European theatre of war. Frederick and Harriet had been married for just over a year when he was killed in action on the 27th June 1917 aged just 25.
He is also commemorated on the Menin Gate Memorial in Ypres, Belgium.
Alexander Court
Alexander Court was born in Shottermill but moved to Grayswood at a young age living in Klondike and Oak Cottage with his parents and older brother.
He served with 10th Battalion, Royal West Surrey Regt in France (G/7527) and was just 25 when he died in France on 5th August 1917.
He is buried in Godewaersvelde British Cemetery in France.
William G Creasey
William Creasey was born on 6th November 1896 to Frederick Harry and Julia Creasey, of Witley Park Farm nr Brook. The eldest of their three boys, he worked with his father, a stockman on the farm.
In February 1914, he signed up to join the Navy and served as an Able Seaman (J/29565)  on HMS Venerable in the Gallipoli campaign in August 1915.  Later that month he was taken ill, and despite being transferred to the Hospital Ship Beltana he died on 6th September 1915 aged just 18 years. He was buried at sea but is commemorated on the Portsmouth Naval Memorial.
William G Fritter
William Fritter was born in Holdfast Lane, Grayswood in 1895 to James and Fanny Fritter. The family moved around and when William enlisted aged just 20 the family were living in Westcott.
Initially enlisting in February 1915 in the 6th Bn Kings Royal Rifle Corps (12320), he had served for just 15 days on the western front with 9th Battalion when he was killed in action on 30 July 1915.  He was just 21 and was killed in Ypres, his death is recorded on the Menin Gate. 
Information taken from Westcott Local History Group
William enlisted at Guildford on 9th February 1915 and initially joined the 6th Bn. The King's Royal Rifle Corps which formed at Winchester on 21st August 1914. [...]  After training at Aldershot and Petworth, the Division landed at Boulogne on 20th May 1915 and by July had taken up positions at Hooge, about 4 km east of Ypres in Belgium. William embarked from Folkestone on 15th July 1915 having been transferred to the 9th Battalion.
On 19th July at Hooge a large mine was exploded under the German lines and 4th Bn. The Middlesex Regiment occupied the resulting crater. British artillery quelled German attempts to recover the crater, but retaliation came on 30th July. At 3.15 am with dramatic suddenness, a British position known as 'The Stables' blew up and jets of flame shot across from the German trenches. This was the first time that liquid fire flamethrowers were used by the Germans against the British. The 14th (Light) Division had just taken over that part of the line and a deluge of fire of all kinds fell on the 41st Brigade and the support positions behind them. The Germans achieved complete surprise. After intensive hand to hand fighting nearly all the positions held by the Brigade were lost.
Despite the German success the 42nd Brigade on the left had not been attacked and they were ordered with the remnants of the 41st Brigade to mount a counterattack. A feeble 45 minute bombardment preceded this and the 41st Brigade attack failed. However the 9th Battalion, King's Royal Rifle fared better and recovered some of the lost lines. The 43rd Brigade relieved the badly-hit 41st during the late afternoon and evening. During the night, another flamethrower attack was repulsed, but further British efforts came to nothing against heavy German shellfire. A surprise attack by the 6th Division on 9th August eventually regained all the ground that had been lost.
William Fritter was killed in action in the afternoon of 30th July, while almost certainly taking part in his Battalion's successful action to recover some of the lines which had been lost during the first flamethrower attack. He had served just 15 days on the Western Front before he was killed. His body was never found and his name is recorded on panel 51 and 53 of the Menin Gate Memorial in Ypres which commemorates 54,406 members of the Commonwealth forces who lost their lives in the Ypres salient and who have no known grave. 'Hooge 1915' is an accredited battle honour of the King's Royal Rifle Corps.
R Owen Hawkins
R Owen Hawkins is shown on the war memorial as having served as a private in the Queens Royals West Surrey Regt.
Richard Owen Hawkins (known as Owen) was born in Lurgashall, Sussex and at sometime worked as a local house painter.
He married Ethel Henly in 1912. They had two children Ivor Owen in 1914 and Percy Eric who was baptised at All Saints on 25 June 1916. Ethel died later that year on 6th September 1916 aged 29.
Richard continued to serve on the Front. He was a private with 13th Battalion, Royal Fusiliers (London Regiment) (G/62870) having transferred from the  Middx Regt (27966) in March 1917 when he died in France on the 9th August 1917 of wounds he received during a battle. He was 33 and is buried in the Bailleul Cemetery in France.
Young Ivor and Percy aged 3  and 1 were listed as the recipients of their father's effects along with their guardians Leonard Henly and Sarah Ann Hawkins.

John Ibbetson
John Ibbetson was born in Brosley, Shropshire but he came to work as a footman at The Stroud, Grayswood Road for Admiral Atkinson-Willes.
Originally he enlisted in Guildford with  5th Queens Royal West Surrey Regiment (2873) before being transferred to the 23rd (County of London) Battalion of the London Regiment (703135).
Having initially served 'at home', he was posted to France in August 2016. He was first admitted to a field hospital in October 2016, but recovered and returned to the frontline. However, just a few months later he was taken ill again and he died from jaundice (trench fever) in a battlefield hospital on 25th April 1917 aged 19.
He is buried at Ste Marie Cemetery, Le Havre, France.
Thomas Moorey
Thomas Moorey, one of seven children born in Haslemere to Alfred and Eliza Morrey, was baptised at St Barts in 1887. He worked as a gardener and nurseryman before he enlisted with Royal West Kent Regiment (27454) later transferring to  22nd Battalion London Regiment (685196) as a private
Thomas married Ethel on 4th November 1914, at St Barts and they lived at Pine View, Grayswood and then The Myrtles, Grayswood Road.
He died from pneumonia (contracted while on active service) when he was home on "demob furlo" (pre-discharge leave) and is buried in the churchyard at All Saints.
John Mudge
John Mudge was born near Torquay in Devon in 1881, the son of John T. and Mary A. Mudge.
John Mudge served as a Private with the 1st Bn Coldstream Guards (15719). He was killed in action on 18th June 1916 aged 35. He is commemorated on the Menin Gate Memorial at Ypres.
He lived at Lower Grayshurst, Highercombe Road, Haslemere.
John W V Palmer
John Palmer was born in Dullingham Cambridgeshire, moved to Colchester where he helped his father who was a gamekeeper (1911 census) and then moved to Surrey.
John went to Grayswood School. He enlisted in Haslemere and served as a Lance Corporal in The Queens (Royal West Surrey) Regiment - 7th Battalion (G/7213).
He was killed in action in France on the 28th September 1916 and having no known grave is commemorated on the Thiepval Memorial near the battlefields of the Somme.
W John Penycate
Walter John Penycate (known as both John and as Jack) was born 6th July 1885 in Haslemere to Albert and Elizabeth Penycate.
He joined the Royal Navy in 1904 serving on many ships throughout his 12 year career. He was promoted to Stoker Petty Officer (306603) and served the war on HMS Invincible, the world's first battle cruiser. 
HMS Invincible was destroyed at the Battle of Jutland along with all but six of her 1031 crew. The actual battle was short but Invincible was targeted by her enemies and an explosion engulfed the entire ship and it sank in less than a minute giving little time for the crew to escape.
'Jack' Penycate's death was recorded on 31st May 1916. His parents, Albert and Elizabeth, are buried in All Saints Churchyard and he is commemorated on their headstone as well as the Royal Naval memorial at Southsea.
William Snelling
William Snelling was the son of Samuel and Sarah Snelling and worked as a general labourer and farm hand.   
He married Ethel Horsley at All Saints Church in Grayswood on 11th August 1904 and they continued to live with his widowed father, sister and wife at Keffolds Farm.
Despite being older, he enlisted and served as a private in the 11th Battalion of The Queens (Royal West Surrey Regiment) (G/37474). He was 40 when he was killed in action in Belgium on 8th August 1917.
He is commemorated on the Menin Gate Memorial in Ypres and Shottermill War Memorial by St Stephens Church.
Alfred Swansborough
Alfred Swansborough was born in 1896 in Guildford and enlisted at Aldershot.  Alfred's brother Arthur served with the Canadian Overseas Forces.
Alfred was an acting corporal with 1st battalion, Loyal North Lancashire Regiment (10547) when he was killed in action 15th July 1916 fighting in the battle of the Somme and Ancre. They could not find his body and he is commemorated on the Thiepval Memorial, France
Archibald A Talman
Archibald Talman came from a large family and lived with his parents Frederick and Rosina at Clammer Hill with his many brothers and sisters.   He worked as a gardener and married Elizabeth Nicholls on the 23rd August 1916 in Lambeth.
Archibald enlisted in September 1914 with the 9th Bn Norfolk Regiment (38269) and served at home and in the France and Flanders theatre of war.
In May 1916, Archibald was wounded and received shot wounds to the "chest, right hand and left knee" and given leave to return to England from the field hospital. He recovered and returned to his regiment on the front. He died on 29th September 1918 aged 30, his service record simply states "killed in action place unknown".  Although his father was still living at Clammer Hill, his wife had by then moved to Perranwell Station in Cornwall. 
He is commemorated on the Vis-en-Artois Memorial in the Pas de Calais, France
Ottley Tuke
Ottley Tuke and his family emigrated to England from Canada. Ottley and his brother Reginald went to St Cuthberts Boarding School.  The family lived in Hill Road, Haslemere and Lower Birtley. 
Ottley served with the Royal Fusiliers (3305) attached to 1 Bn Kings Own Yorkshire Light Infantry (3305) and was promoted from private to lieutenant. He was sent to France 1 July 1918 and just three months later Ottley was 'killed in action'  17 October 1918 aged 22, 25 days before the end of the First World War
His father, Reginald Herbert Tuke, of "Wyecroft," Hill Rd., Haslemere, Surrey, requested the following inscription on his headstone at the Highland Cemetery, Pas de Calais, France
"Grant him O Lord eternal rest and may light perpetual shine upon him"
William G Turner
William Turner was born in Petersfield in 1895
The 1911 census shows he was single and living with his parents George and Eliza. There were 7 children at home ranging from William who was 15 down to Mildred who was 1.  Evelyn, 12 and Ethel, 10 and they were both at school (presumably Grayswood School) and Bertha, 8, Albert, 6, Thomas, 3 and Mildred were at home with Eliza.  
William served with the Coldstream Guards (13434/5) and was just 20 when he died on the 28th September 1915 in France.  His death is commemorated on  The Loos Memorial records that he is the son of George and Eliza Jane Turner, of Yew Tree Cottages, Grayswood, Haslemere, Surrey.
An extract of a letter survives that William sent home from France to a relative in June 1915
Letter dated the 18th of June 1915.
13435. PTE. W.B Turner.
No. 7 Section No. 1 company,
1st Batt Coldstream Guard,
First Brigade 1st Division,
Britsh Expeditionary Force.
France.
My Dear Aunty & Uncle,
I am now writing just a few lines hoping you are all quite well, I am very glad to say I am at present, I went in the Trenches on Sunday for the first time & it was strange at first, & we were under very bad shell fire I have now experienced what the headache is like I have never had it before, but it was the big guns that done it, & I pity anyone who have it. I had a letter come from dear Mum when I was in the trenches, & I was very glad to hear from them all, I hope you will let me have a line from you soon. We are having a rest now come out trenches on wed night. I hope Dear little cousin is getting on quite well, I should like to see him now, but he will be a big boy when I come home & see him & so will my dear little Florrie, no more news this time write to me soon, Love to all from your ever loving nephew, William xxxxxxx
((https://www.europeana.eu/en/item/2020601/https___1914_1918_europeana_eu_contributions_17252))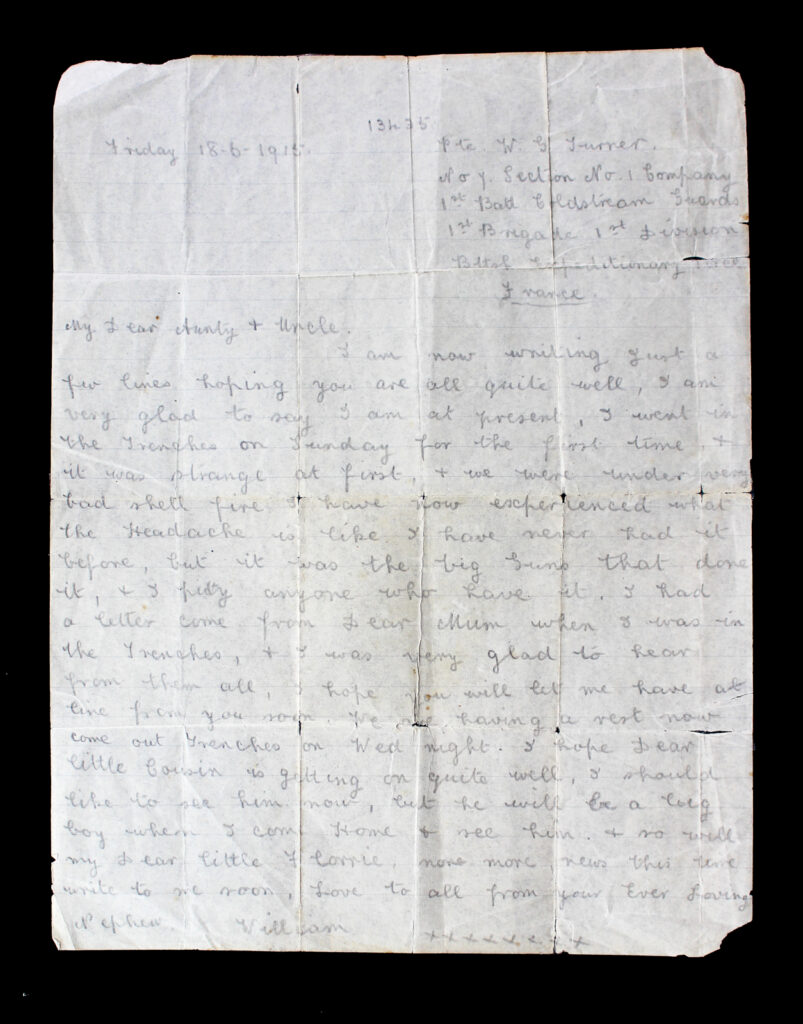 Stafford C White
Stafford White was born on 22nd July 1884 in Islington but moved to live with his wife Beatrix and their four children at Old Manor Cottage.  The 1911 Census shows them living with two of children living, as well as 3 cousins and 4 servants.
Stafford served as a 2nd Lt with 7th The Kings (Liverpool Regt) and died at the battle of Ypres on died 31st July 1917. Stafford's wife never remarried but moved initially to back to London and then later to Bognor with her daughter Lucy.
An extract of the death notice for Stafford White contains a comment from a fellow officer and it reads
"He was an officer it will be hard to replace, one of our keenest infantry officers and I feel his loss very much. He proved himself a brave and skilful leader and was killed while waiting to lead his men forward".
He is buried in Bedford House Cemetery, Ypres, Belgium and Beatrix asked for his headstone inscription to read "Love conquers death"
Those who served
Text from talk on Remembrance Sunday 2018 by Jane White
One hundred years ago this Country was in the middle of a great war, the great war.  This beautiful village probably looked similar to how we see it today, there was a church, the club and the school.  Most of the buildings we see were here although some were shops or had businesses running from them and of course, the village green was the same but with a few more trees.
In 2017, I researched the names on the war memorials that are in this little area of Surrey in the South of England and was amazed and very proud of what I uncovered.  I decided that for the centenary of the end of the first world war I would try and find out more about these men.  I displayed photographs of men related to some of us here, everyone whether they were lucky enough to survive or who lost their life should be honoured and remembered,  This country would not be what it is today without the struggles they lived through. Some of these men have been more easier to find out about than others, so please forgive me as I won't be talking about every name today.
You can see the information I found on this page
It is still humbling to think that in a small village like Grayswood the number of men who lost their lives fighting for our country.  We take news and information as instantaneous now, it must have been awful not hearing for sometimes months that your son or husband had died. I feel privileged to know more about the men who laid down their lives and those that came back more than a lifetime ago.  I wear my poppy with pride and humility. This is not a list of names, these are lives.
Amen.
Since 2018, additional information has come to light and been added - Ed
REMEMBERING
It is easy to forget to remember
Those so easily forgotten
That they are not just a list on a village plinth
Or buried names in newspaper print
Let us not forget they were people like us
Fathers and sons and daughters and mums
Cousins and lovers and friends
And those who live on to carry the burden
Of grief and pain without end
They too need remembering
And holding in place
For their unhealed wounds
And their sacrifice
For them no victory is found in their tears
Just a sense of defeat
And wasted years
We remember them.
There is much to remember
Perhaps more to forget
And yet
While it's part of our history
As page after page
Is quick to record
Do we only remember the dates and events
Before the people that paid for it all.
Let us not forget that what we remember
Is not the glory of men at their best
But rather the cost
Of a world at a loss
As to how to live with itself in peace.
But now to return to those that are gone
Those
Whose lives are an unfinished sentence
About to say something to someone they loved
But stopped in their tracks
As they paused to draw breath
Interrupted, cut short
And rudely silenced
By an untimely guest
Who called himself Death.
We remember them.
Let us lastly remember
If death is the end
In the end
The cost is too great
But
A man once said
Before choosing his end
Greater love has no one than this
Than to pay the price and lay down their life
For their friends as a sacrifice
So today let us say
And remember always
Greater love has no friend than this:
Than to always remember
And never forget
That life itself is a gift.
Richard Everett

War Memorials at All Saints, Grayswood
To the glorious memory of the men of Grayswood who gave their lives for their King and Country in the Great War 1914 – 1919
George L Booker – C P O Royal Navy
Frederick W Buss – Pte Queens Royal West Surrey Regt
Alexander Court – Pte Queens Royal West Surrey Regt
William G Creasey – A B Royal Navy
William G Fritter – Pte Kings Royal Rifle Corps
R Owen Hawkins – Pte Queens Royal West Surrey Regt
John Ibbettson – Pte Queens Royal West Surrey Regt
Thomas Moorey – Pte 22nd Battn London Regt
John Mudge – Pte Coldstream Guards
John W V Palmer – Pte Queens Royal West Surrey Regt
W John Penycate- C P O Royal Navy
Walter Smithers – Driver Army Service Corps
William Snelling – Pte Queens Royal West Surrey Regt
Walter Steer – Driver Royal Field Artillery
Alfred Swansborough – Corps Loyal North Lancashire Regt
Archibald A Talman – Lance Corp Norfolk Yeomanry
Ottley Tuke – Lieut East Yorkshire Regt
William G Turner – Pte Coldstream Guards
Stafford C White –Lieut Kings Liverpool Regt
"Herein is that saying true, one soweth another reapeth" St Jonh 4.37
In grateful remembrance
Robert Charles Blockey
Hugh Walter Hayward
Peter William Lowe
1939 – 1945
"Per ardua ad astra"
George William Whittall
George was born in London to William and Caroline Whittall in 1897 but by 1901 the family had moved to Chiddingfold.  He is shown in the 1911 census aged 14 and boarding at Harrow School in London.
He served as Lieutenant in the 3rd Dragoon Guards.
He died on 30 December 1919 and is buried in All Saints, Grayswood.
George was awarded the Military Cross. This is taken from the Supplement to the London Gazette 16th September 1918
Lt. George William Whittall, D.G.
For conspicuous gallantry and devotion to duty. This officer acted as liaison officer between regimental headquarters and the front line for two days and nights, continually carrying messages across the open under heavy shell and machine-gun fire. When the line became disorganised owing to repeated enemy attacks he was always on the spot, where the situation was obscure or touch had been lost, reorganising and keeping regimental headquarters accurately informed as to the situation.
A note on the medal cards shows A Atkinson-Willes of the Stroud, applied for George's medals (1914/15 Star, BW & V medals) in August 1920 on behalf of his father.
Roll of Honour
Roll of Honour for Grayswood School
This document was recently discovered at All Saints Grayswood. It is currently under going conservation work at Haslemere Museum.
The Roll is undated but it is believed that the men listed served in the The Great War. The Flags in the four corners are those of Great Britain, France, Belgium and Russia. The wording across the central banner reads  - King - Country - Home - Freedom - Honour  - Light
While a few listed here are those remembered on the War Memorial Plaque, there are other men named here with their regiments about whom little is known and research continues.
LH Column
Walter John Penycate
Alfred Smithers – Royal Field Artillery
William Smithers – Army Service Corps
Walter Smithers – Army Service Corps
Arthur Walder
John Smithers – Army Service Corps
Frank Puttock – Royal Field Artillery
Frederick Patent – Royal Field Artillery
Bertie Lamboll (sp?)
Phillip Burtenshaw – Army Service Corps
George Clear – Army Service Coprs
James Cox
RH Column
Jacob Smithers – Royal Engineers
Wilfred A Penycate
Archibald Talman – Bedford Regiment
William Hack – East Surreys
Leonard Smithers – Army Service Corps
George Smithers – Army Service Corps
William Turner – Coldstream Guards
Harold Ritchie
Harry Dockett – Army Service Corps
Charles Cheeseman
Walter Creswell – Royal Horse Artillery
Andrew Bicknell