Axel Haig Memorial Stone
The unusual Memorial stone in the churchyard is to the Swedish architect of the church, Axel Herman Hagg (Haig). LOst in the mists of time, it is thought that irregularly shaped stone may represent a Swedish rune stone, a Viking sail or even an artist's palette.
The west face shows a Viking longship and the inscription:
Sällskavet B.V. reste stenen åt sin jarl | A.H. Haig of Grayhurst | laborare est orare
Translation: This stone was erected by the Sällskavet B.V. (Society of Berserkers and Vikings) for their Jarl (leader or chairman)| A H Haig of Grayshurst | Laborare es orare  (to work is to pray).
The east face has a curved cross design and the inscription:
Axel Herman Hägg | 10 Nov 1835 | 23 Aug 1921 | Konstnär | Etsare
Translation: Axel Herman Haig | 10 Nov 1835 | 23 Aug 1921 | artist  | etcher
Back to Church Guide - outside
Axel Haig Memorial Stone - Ship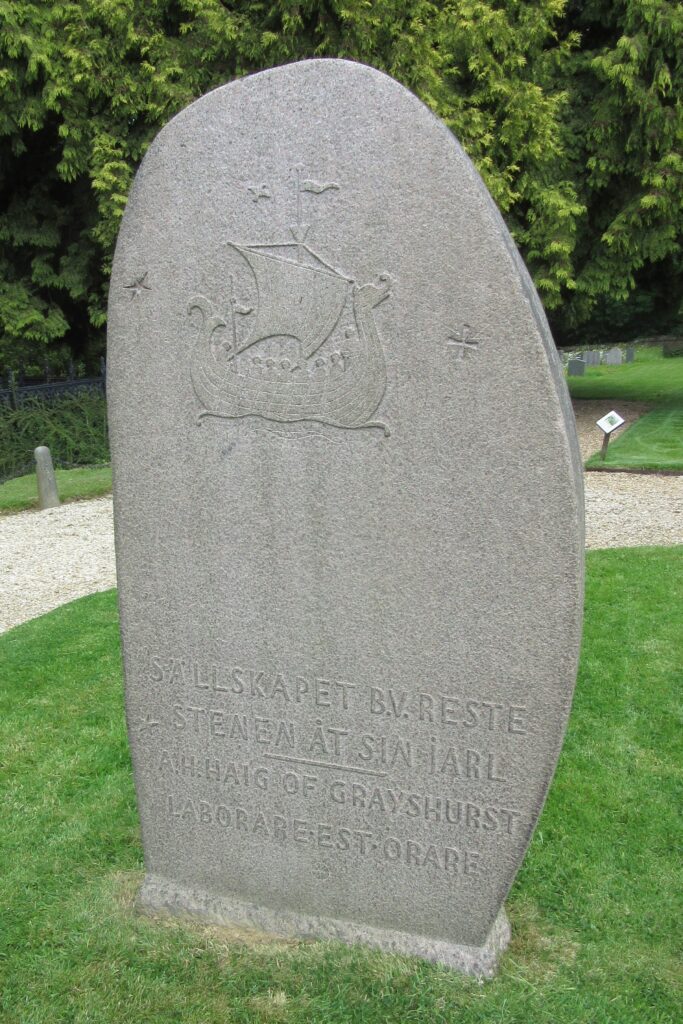 Axel Haig Memorial Stone - Name