Welcome to services for Holy Week and Easter at All Saints Grayswood
A warm welcome to our page sharing our home worship resources for Holy Week and Easter 2021 ...
Sunday School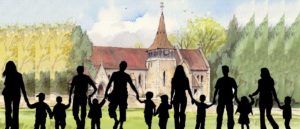 Happy Easter to all our younger readers - we have a page especially for you with activities , videos and songs - just go to the Children at Home page ...have fun!
Palm Sunday
On Palm Sunday we celebrate Jesus' triumphal entry into Jerusalem and mark the start of Holy Week.
Join us on zoom for our Palm Sunday Service at 10 am.
Palm crosses will be available to collect from the Church porch (from 21st March).
Holy Week
Compline derives from the Latin word for completion and is a form of Night Prayer used by many Christians. It is a service of quietness and reflection before rest at the end of the day
If you wish to pray at home, please download a copy:
Order of Service for Compline at home (pdf)
Good Friday
Good Friday commemorates the crucifixion of Jesus and his death at Calvary.
Join us on zoom for a family service at 10 am
There will be Prayer Stations in the church grounds for you to come and pause awhile
Why not complete a Walk of Witness around your home?
Download a guide with suggested prayers -  Walk Of Witness (pdf)
Wintershall 2 April 2021
The Passion of Jesus and One Good Friday story will be available online on Good Friday 2 April 2021 at 12 and 3pm.
If they are unable to perform live in Trafalgar Square Wintershall will livestream, through their Facebook page: https://www.facebook.com/Wintershallplay 
After the livestream, the recording will be available on YouTube and the link will be found under Media Gallery at the bottom of the page: https://www.wintershall.org.uk/passion-jesus-london
Holy Saturday
Holy Saturday is a day of waiting ... the day between the desolation and sadness of Good Friday and the joy of Easter Sunday ...
Easter Sunday
He's Alive - He is Risen!
Join us on in church and on Zoom for our Easter Sunday Service at 10 am
(If you wish to attend a service in church you will need to book as spaces are limited)
Children at Home
Watch this re-telling of the Easter story

Join with GoFish as they sing "Christ Arose!"